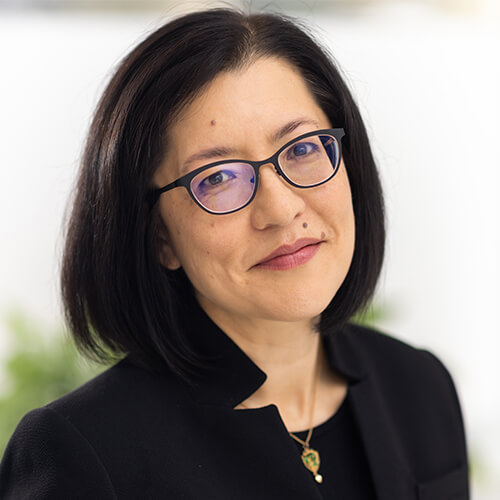 Mei-Ling Huang
Partner | Chair of Partnership Committee
Health & Social Care Sector | Dispute Resolution
Mei-Ling's litigation experience spans a wide range of areas in two jurisdictions. She regularly advises on commercial disputes and health and social care sector issues. She takes the view that there is almost always a way to resolve a problem and that a practical approach is best.
A partner qualified in the UK and USA, Mei-Ling is an experienced litigator with a reputation for trouble-shooting and crisis management. Recognised by The Legal 500 UK as "extremely knowledgeable" Mei-Ling "gives no-nonsense advice", helping clients navigate and overcome threats to their businesses, providing management and business advice as well as legal expertise.
Mei-Ling specialises in health and social care as well as commercial litigation and regularly advises care homes, home care agencies, supported living providers, dentists, GPs and drug and alcohol rehabilitation centres on the myriad of challenges they face.
Mei-Ling's experience includes:
advising in regard to breach of warranty claims after the sale of shares in a business
successful mediation of a long-running partnership dispute within a family business
successful mediation of a dispute relating to the denial of insurance cover and the professional negligence of an insurance broker
contract disputes regarding the provision of services
numerous challenges to CQC inspection reports for care providers, GP's and dentists, increasing ratings of inadequate and requires improvement
assisting care providers to maintain and achieve outstanding ratings
successful appeals to the First Tier (Care Standards) Tribunal of Notices of Decision to cancel the registration of care services
successfully contesting a Notice of Proposal to refuse registration for a dental practice
advising care associations in regard to fees negotiations with local authorities
helping care providers get paid by local authorities, CCG's and private funders
advising a provider in regard to a safeguarding whole service review and CQC Notice of Decision to cancel registration, including an appeal to the First Tier Tribunal
bringing two successful judicial review cases against a local authority in relation to care home fees
Emerging from the storm
Join Mei-Ling and our team of Health and Social Care specialists as they explore the new world of Social Care with sector experts.
Read more
Mei-Ling has a well-honed ability to absorb complex information and cut to the chase. Her advice, knowledge and expertise have been invaluable to us in dealing with commissioners and regulators on a range of matters. She has given us confidence to fight our corner when appropriate in a sector where providers often feel powerless.
Dr Jane Townson, CEO, Somerset Care Group
Related articles
Read more from around RWK Goodman