May 19, 2020
Caring for children with cerebral palsy in the midst of the Covid-19 lockdown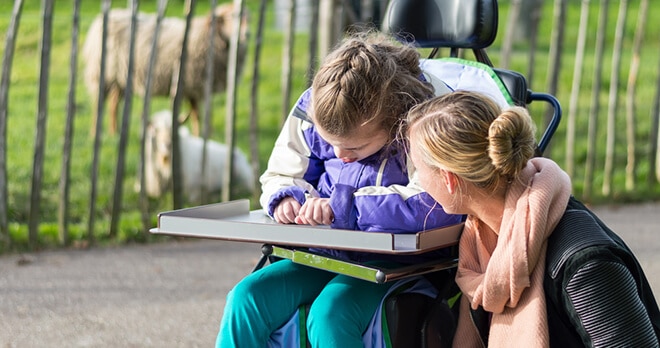 The stress on any parent in looking after their children during Covid-19 has been high, but the exhaustion and stress of parents caring for a child with a significant disability has been immense. The government restrictions have forced the closure of many specialist schools and caused an inability to bring in employed care staff; for many parents this has created burden almost too much to cope with. What can be done to provide parents with a child who has cerebral palsy and high care needs with some respite and support?
Amanda Batten, CEO of Contact (a charity for parents of disabled children) told The Guardian newspaper that there had been a "vast increase in demand for our services and support" since the Covid-19 crisis began.
She went on:
"Many of these families, many of whom are single parents with other children, only coped before the crisis because they had a small army of two-to-one care, or one-one care. They are now having to do it all on their own….A lot of families of disabled children are reporting increased mental health needs on the part of both their children and themselves."
A mother who has a child with cerebral palsy told the paper that she feared if her daughter contracted Covid-19 she would not survive so they are having to self-isolate for an indefinite period, she commented:
"We are trapped in our house, alone …..The gnawing anxiety associated with being in physical isolation is emotionally draining. I am not sure how much longer we can cope."
How have things changed where established care regimes are in place?
These sentiments have been echoed by many of our clients, who have settled claims relating to medical negligence.
Established carers who have been employed (with the use of either compensation money or Direct Payments) to look after a disabled child are permitted to continue to provide that care, but only if they can do so safely within the family home. This has required revised risk assessments with an intensive review of safe-care and hygiene practices for directly employed care teams, ensuring adequate PPE (personal protective equipment) is available and provided. Case managers have been actively involved in working remotely with families to ensure they continue to have the level of support they need. However, sourcing PPE has been both difficult and expensive.
Some families have felt the risks of having a care team in their home were too great in terms of an infection risk for their child and have opted to furlough their care team. This has placed huge strain on such families to try to cope without the help they previously had.
One of the key problems is that carers were employed to work around school hours Monday-Friday, so there is a huge gap in the care provision during the times the child would normally be in school. It has certainly not been the experience of our clients that their child's special needs school has remained open for them to attend (as the Government claims they are); many report total closures with a lack of subsequent support from social services in getting additional help in. Indeed many support workers employed via schools have been furloughed and are not available to provide care or support to families.
Once a carer becomes symptomatic of Covid-19 they must self-isolate and will be unable to work, possibly for weeks. Trying to fill the gap of an unavailable, trusted and trained carer though is extremely difficult to do.
More active testing for Covid-19 of key workers, such as carers, needs to be increased. The government has now confirmed that un-paid carers will be categorised as key workers and can apply to be tested; the government guidance can be found here.
In addition to care provision many children also rely on regular therapeutic input from physiotherapists, speech and language therapists and occupational therapists; provision of these services has also been significantly impaired.
What more should be done?
It is very welcome news that the government guidance for outdoor activity has changed so that parents can take children out doors for recreation for longer periods of time and can engage in picnics and sport outside the home. However for many of our clients with cerebral palsy they suffer from chronic health conditions, particularly in terms of lung function and going outside with the family simply isn't an option due to infection risk.
In those circumstances parents hugely need to be provided with urgent additional benefits to procure safe help from carers in their homes and to know that those carers who have tested negative for Covid-19, are regularly tested and adhere to strict hygiene measures.
In the meantime the charity SCOPE have started an on-line chat and advice line for parents of children with cerebral palsy which may be of assistance.